The best lights for backpacking are those that are most efficient. Backpackers want to save weight, so when we talk about light, one thing to consider is the size of the bulb and its wattage. For example, generally speaking, smaller bulbs are more energy-efficient than larger ones.
Incandescent Bulbs: Incandescent bulbs are the most common type of flashlight light source. They are available in a range of sizes and wattages and provide a bright, white light.
LED (Light Emitting Diode): LEDs are the most popular flashlight light source. They have a long life, are energy efficient, and emit a bright, white light. They are available in a range of sizes and colors.
HID (High Intensity Discharge): HID lights such as xenon bulbs are the brightest flashlight light source available. They are very energy efficient and have a long life, but are also more expensive than other types of lights.
Halogen Bulbs: Halogen bulbs are a type of incandescent bulb and provide a bright, white light. They are slightly less energy efficient than LED lights but are still more efficient than incandescent bulbs.
CFL (Compact Fluorescent Lamp): CFLs are the most energy efficient type of flashlight light source. They produce a bright, white light and are available in a range of sizes and colors.
Helius is a wholesale flashlights supplier, the following ten flashlights are relatively high-quality flashlights in our factory, and they are the most influential flashlights in our factory.
super bright flashlight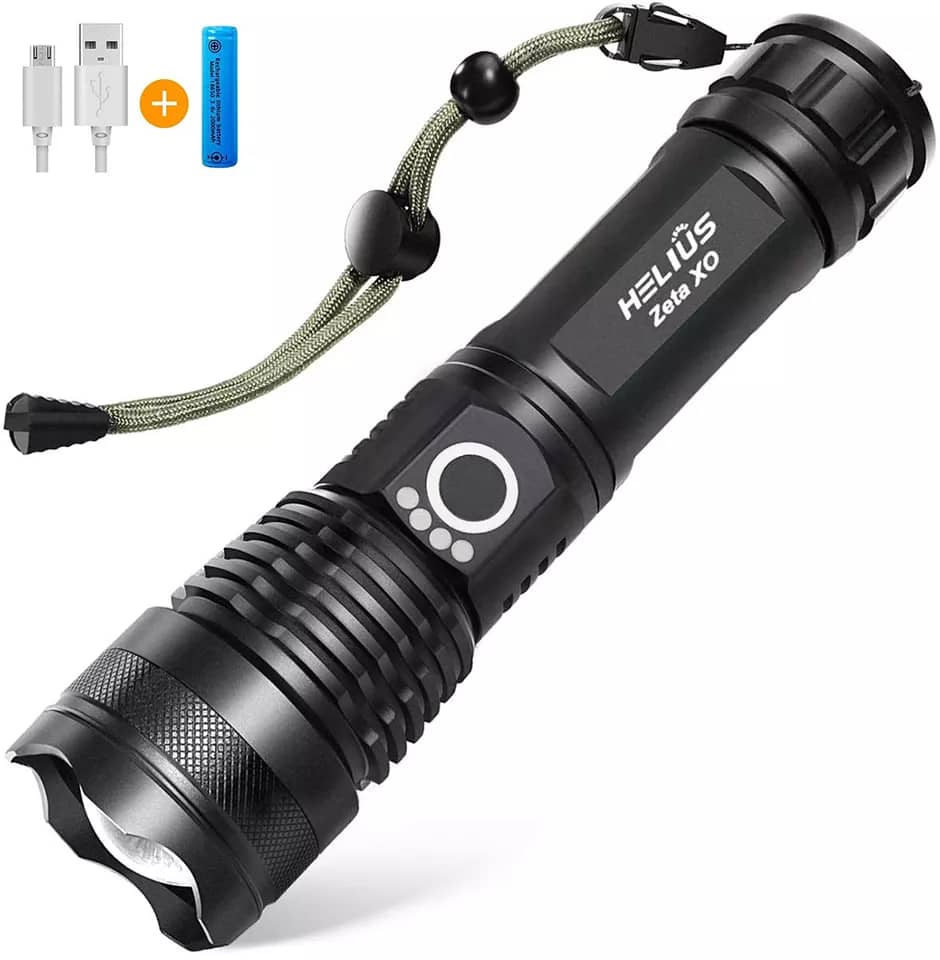 A zoomable flashlight has the advantage of providing adjustable illumination from a wide flood beam to a focused spotlight. This makes it easier to target specific objects and areas for a more precise level of illumination. The adjustable beam also allows for more efficient use of the flashlight's battery power, as a wide beam can be used for general illumination, while a focused beam can be used for more detailed inspection. Additionally, the zoomable feature can be used to conserve battery power when necessary by reducing the brightness of the beam. Zoomable flashlights are ideal for outdoor activities such as camping, hunting, and even search and rescue operations, as they provide a versatile and adjustable light source.
Beta XO tactical Led flashlight
The Beta XO LED Flashlight is a powerful and versatile tool for lighting up any area. It features five different lighting modes, a maximum output of 10,000 lumens, and four built-in 18650 Li-ion batteries. This flashlight also has a long lighting period of up to four hours, making it perfect for outdoor activities and long-term usage. With its durable design and advanced features, the Beta XO LED Flashlight is the perfect addition to your lighting arsenal.
Solar flashlight
The Solar Flashlight is a powerful and convenient way to light up your life. It is a rechargeable flashlight that uses solar energy to charge its internal battery, so you'll never have to worry about running out of power. It also has a built-in USB port to charge your other devices. This flashlight is perfect for camping, hiking, and other outdoor activities. It is lightweight, durable, and water-resistant, making it an ideal choice for any adventure. With its long-lasting battery and bright LED light, you'll never be left in the dark.
Led night light
YD01 Crystal Led Night Light Table Lamp is the perfect addition to your bedroom or living room. With its color temperature of 3500K (Warm White), this lamp provides a cozy and inviting atmosphere. It also features a 3 color switch, allowing you to customize the light to best fit your needs. Additionally, this lamp is also customizable with your own logo, making it a unique addition to your room. This lamp is perfect for providing ambient and calming light for a peaceful night.
High lumen flashlight
Rechargeable flashlights built-in advanced P-70 LED chip to provide brightest light. Led flashlight has powerful output of 90,000 lumens enough to easily illuminate a large field and your yard. The illumination distance of the bright flashlight is over 1640ft/500m. Led flashlights high lumens rechargeable deliver 8 hours of run time in high mode, medium mode run times can be used for 12 hours. With 10000 mAh Upgraded battery can let you use it for a long time.
Led headlamps
Adjustable nylon headband for a snug and comfortable fit. Detach the light to fit it in your pocket. Swivel it up and down 90 degrees. Switch between different lighting modes with a single button.
10000 Lumens flashlights
The LED flashlight uses the most advanced xhp70 led chip with a brightness of 5000 lumens. The maximum irradiation distance of the flashlight can reach 1600 feet, the light source is stable and bright, nables you to use it as a long distance tactical flashlight.
Portable LED headlamps
This led headlamp rechargeable comes with 2* 18650 rechargeable batteries, which can last more than 12 hours in fully charged. The switch, lamp, wire, and battery box are all waterproof, making sure you can use it in a rainy day, best for Running, Bicycling, Hiking, Camping, Hunting, Fishing, Reading, Working, Cave Exploration and so on.
100000 lumen LED flashlight
XHP360 flashlight is a powerful and versatile light source, perfect for a variety of situations. Its main light features high, low, and strobe settings, while the auxiliary light offers strong light, medium light, red light strong light, and red light strobe settings. It is powered by either 18650 or 26650 rechargeable batteries and features 36 LED light beads. The light is also zoomable, providing a focused beam when necessary. With a lighting period of more than 12 hours, this flashlight is sure to provide reliable and efficient lighting for any occasion.