Nowadays, outdoor activities are very popular among people, that is because outdoor activities can relax our spirit of stress at work, cultivate our sentiments, and achieve the effect of physical and mental health. With more and more outdoor activities, the requirements for outdoor tools are becoming more and more strict. Each tool used corresponds to different needs and uses. Let's take a look at the introduction of flashlights in different applications.
LED Flashlight: LED flashlights are the most popular type of flashlight on the market today. They are typically the brightest and most efficient type of flashlight, and are available in a wide range of sizes and shapes. LED flashlights are ideal for outdoor activities such as hiking, camping, hunting, fishing, and more. They also make great emergency lights for home or office use.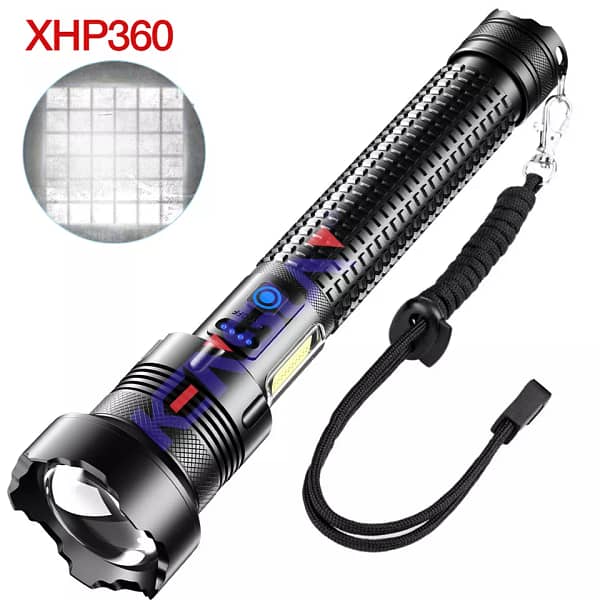 This products are outdoor camping 100000 lumen led flashlight, which can be used for family emergency flashlights, night walking, outdoor camping, mountain climbing exploration, emergency flashlights, etc. The product has 7 modes of high frequency, medium frequency, low frequency, stroboscopic and SOS/emergency. The product has passed CE, PSE and RoHS certification, and can be used with confidence.
XHP360 flashlight is a powerful and versatile light source, perfect for a variety of situations. Its main light features high, low, and strobe settings, while the auxiliary light offers strong light, medium light, red light strong light, and red light strobe settings. It is powered by either 18650 or 26650 rechargeable batteries and features 36 LED light beads. The light is also zoomable, providing a focused beam when necessary. With a lighting period of more than 12 hours, this flashlight is sure to provide reliable and efficient lighting for any occasion.
Halogen Flashlight: Halogen flashlights are a popular choice for their intense and focused beam of light. They are generally more expensive than other types of flashlights but are very durable and reliable. Halogen flashlights are the preferred choice for professional and industrial use, such as search and rescue, security, and surveillance.
Incandescent Flashlight: Incandescent flashlights are the most common type of flashlight. They are inexpensive and easy to find, and are suitable for most general-purpose uses. They are usually not as powerful or efficient as LED or halogen flashlights, but they are still a great option for everyday use.
Tactical Flashlight: Tactical flashlights are designed for self-defense and security. They are generally more powerful than other types of flashlights, and many models feature specialized features such as strobe, SOS, and other modes. Tactical flashlights are ideal for law enforcement, military, and security personnel.
The Beta XO LED Flashlight is a powerful and versatile tool for lighting up any area. It features five different lighting modes, a maximum output of 10,000 lumens, and four built-in 18650 Li-ion batteries. This flashlight also has a long lighting period of up to four hours, making it perfect for outdoor activities and long-term usage. With its durable design and advanced features, the Beta XO LED Flashlight is the perfect addition to your lighting arsenal.
UV Flashlight: UV flashlights are useful for a variety of tasks, including detecting counterfeit currency, checking for scorpions, and reading invisible ink. They are also used for forensic investigations, as well as for medical diagnostics.